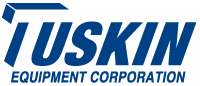 Liquid Color Systems & Solutions for Industry
View Menu
Engineering Innovation
Better Ideas Make Better Solutions
At Tuskin, we've designed hundreds of liquid distribution systems for clients just like you. We work with you to understand your business, your manufacturing challenges and then design systems that deliver the best value.
Engineering Efficiency
Tuskin knows that to compete and excel in today's marketplace you have to be efficient and get maximum productivity from every aspect of your business. We've designed and built many of our own products and bring this same passion for efficiency and quality to your business.
From the components that go into our pumps to the tubing we use in our liquid distribution systems, we use the best parts, system design and engineering practices to help you get the best return from your investment. Let's talk about how we can make our products make your business better.