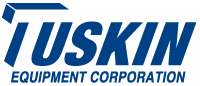 Liquid Color Systems & Solutions for Industry
View Menu
Design Services
Custom Products for Custom Applications
Your business is as unique as you are. Tuskin specializes in assessing your particular liquid color or other liquid dispensing application and designing a system to deliver efficient, effective solutions. Our services include:
On-site consultation
Needs analysis
Product customization/modification
Start-up and maintenance
Equipment and system repairs
Other companies may provide individual pieces for you, but Tuskin can design, produce and maintain a solution based on your specific production requirements.
For more information, contact Tuskin.