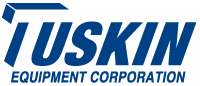 Liquid Color Systems & Solutions for Industry
View Menu
Liquid Color Mixers

Tuskin Liquid Color Mixers
FEATURES
• Rugged All-Welded Steel Construction
• Electroless Nickel Plating
• Easy Access
• Easy Cleaning
• Wire Formed Impeller
• No Sharp Blades
• Reduces Color Consumption
• Large Viewing Window
• High-Temperature Option Available
Tuskin Liquid Color Mixers (Intermixers/Pre-mixers) continuously provide superior mixing of resin, regrind, and additives as they enter the throat of the process machine.  By coating each and every pellet more thoroughly, excellent results can be achieved with less color.  The mixer is designed to mount directly to the feed throat of the machine with the hopper or material supply mounted directly above.  Rugged all-welded construction is ideal for trouble-free industrial use.
The Tuskin Mixer ensures coloring is more efficient, more thorough, and more uniform whether using liquid color, color concentrate or other additives.  The clear faceplate has an easy-access design to allow for effortless cleaning and quick color changes.  For added safety, the mixing paddle is wire formed and does not have sharp blades.
The Tuskin mixer is available in three sizes which can be ordered with options for high-temperature and 230 volt applications.
| | | | | |
| --- | --- | --- | --- | --- |
| Part # | Description | Throat Diameter | Capacity | Throughput |
| P1076 | 4" Mixer | 2″ | 2 lbs/1 kg | Up to 210 lb/hr |
| P1077 | 6" Mixer | 3" | 6 lbs/3 kg | Up to 720 lb/hr |
| P1078 | 10" Mixer | 4" | 15 lbs/7 kg | Up to 1800 lb/hr |
Resources